Rashika Ahuja
Feb 09, 2022
What strikes you mind when you have to buy a special gift or a daily-use product? I bet your answer consists of an e-commerce site like Amazon, Flipkart, e-Bay, Alibaba, or some other online shopping variation. Today, most people will not take the effort to visit a physical shop considering the investment of time, planning, and travel. Everything is at the click of a button, then why would anyone look for an item outside the e-commerce options? We are here to help you as a brand stand out by providing some UX design guidelines for e-commerce.

What is E-Commerce?
1995 marked the iconic development in the history of eCommerce as Amazon and eBay launched. Amazon was started by Jeff Bezos, while Pierre Omidyar launched eBay. Jeff Bezos first started with books, moving on to music CDs, and then moved on to connect multiple buyers with suppliers.
E-commerce (electronic commerce) is the buying and selling of goods and services over the internet. There are no physical marketplaces, and the entire process of marketing and selling goods takes place online.
Design for E-commerce
With the rise of e-commerce platforms, the competition in the sector is increasing. The consumers will use only that website/ app which offers the best User Experience. Barriers like slow loading, issues with adding to cart, fewer payment options, bad images, bad navigation will result in the customer moving on to another website/app.
The ability to retain the customer will also be tested between competitors. The solution to all these issues is providing an excellent User Experience with a researched User Journey, Information Architecture, and intuitive User Interface. I mention further the essential aspects of UX that will help beat the competition.
Useful:
The content and information provided should fulfill a need to accomplish a task. Avoid unnecessary text.
Usable:
The User should require minimal assistance to use the website/app, and users should be competent to complete a task and remember the path.
Accessible:
No User should be overlooked, and the product/services should be inclusive. Designs that consider speech, visual, hearing, and learning disabilities will make their product/service accessible to everyone.
Desirable:
The interface designs should be aesthetically pleasing, and they should evoke positive emotions to make the User come back again to the platform.
Guideline to design an excellent E-Commerce app/website.
Responsive Design: 48% of users stated to Google that when a site doesn't function on their mobile device, they feel that the company doesn't care for the business. Most Users are purchasing through mobile, and it becomes crucial to make websites responsive to a mobile, tablet, or any other gadget. 79% of smartphone users have bought online using their mobile devices in the last six months. With the increase of mobile penetration, this percentage will increase.
Use quality photos and videos: One advantage that physical stores have over E-commerce ****is that the customer can see, feel and is tangible during the purchase. The only way to overcome this barrier or satisfy the users is to use high-resolution images and videos. They can be available in various dimensions and degrees. If not, the User is likely to abandon the site due to the wrong impression.
User Interface Design: The designs of all the screens should be interactive, responsive, clean, and with good visual hierarchy, contrast, layouts, typography to please the User. UI design attracts your audience and persuades them to stay on your site and take a deeper look. It improves customer satisfaction, customer confidence, and sales.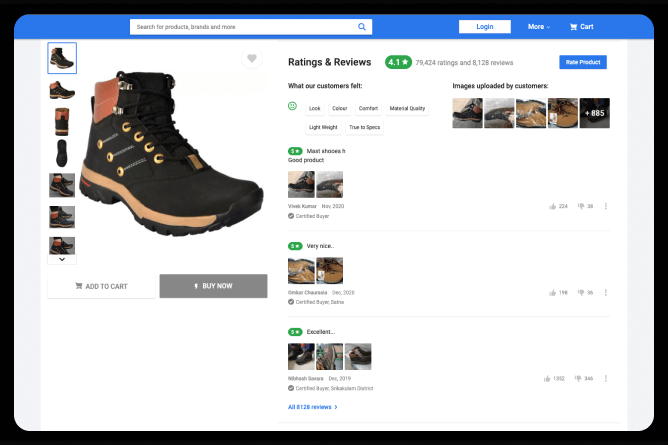 Provide Social Proof: Social proof is a psychological and social phenomenon wherein people copy the actions of others in an attempt to undertake behavior in a given situation, also known as informational social influence. Providing the User with information like Reviews, Number of Buyers, Video/ Photo reviews, ratings given to the product, certifications, Seller details will create credibility and influence the User to buy without hesitation.
Multiple Payment and Help options: When we buy offline, we have the luxury to ask immediate questions and get their answers. Similar luxury is replicated with Live chats, FAQs, chatbots to provide product information. While they check out, multiple options allow the User to complete the process instead of quitting at the end due to the absence of the desired payment method.
The above guideline ensures a satisfactory User Experience to increase E-Commerce use. Applications and websites like Amazon constantly keep iterating their Designs to make them suitable for the Users. We, at Procreator, have helped companies achieve their UX goals, one of which is One for Blue.
Contact us if you are beginning your journey into UX and want help designing successful products and interfaces that customers will use.