Blogs
Adobe XD vs Sketch- Which one to choose?
Adobe XD vs Sketch- Which one to choose?
Rashika Ahuja
Dec 21, 2019
Adobe XD vs Sketch App
Adobe XD and Sketch are both very excellent design tools and are a norm in the industry for the past few years. So, if you are wondering which one to choose, or which one is better, you've come to the right place! Today, we will determine which software is better for what kind of user and suites your design use case. Is anyone of it universally better than the other? Let's figure it out
The most important difference.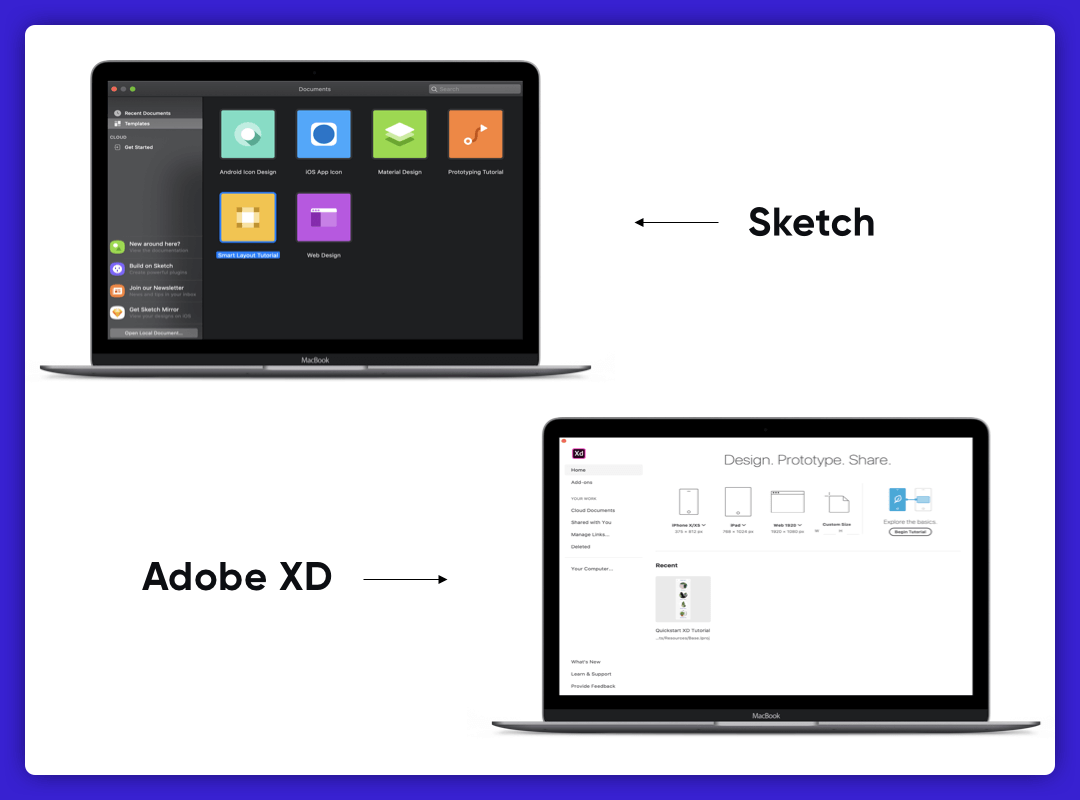 Adobe XD is available for both Windows and Mac OS, while Sketch is only available for Mac. So, if you have a Windows machine, Adobe XD is the only choice you have. But if you're a Mac user, should you consider switching to Adobe XD or if you're a Windows user just wondering whether the grass is greener on the other side, let's find out!
The Experience.
Let's begin by comparing the initial load screens of both this software. Except for their different design languages, they both have similar functionality on their initial load screens. You can take a look at both the software's load screen here!
Adobe XD vs Sketch App Comparison
The toolbar
As you may notice, the toolbar present on top of the screen on Sketch isn't present on Adobe XD. The toolbar is a valuable feature in Sketch with customizable shortcuts. Adobe offers a comparable feature called the toolbox, located on the right-hand side of the screen.
Responsive Design Tools.
One unique feature in Adobe XD is a responsive auto-mode. It calculates how the screen should react to changing device sizes. This is a helpful feature that can be turned on and off using a simple slider button. If the auto-mode falls short of its expected behavior, a designer can change the responsive properties manually. You'll have to use plugins on Sketch to replicate the same functionality.
Repeat Grid.
Another striking feature in Adobe XD is the repeat grid. This is a helpful tool that allows for the easy creation of adaptable lists and grid-based screens. While Sketch lacks this feature, it can more or less be replicated with plugins.
The major similarities.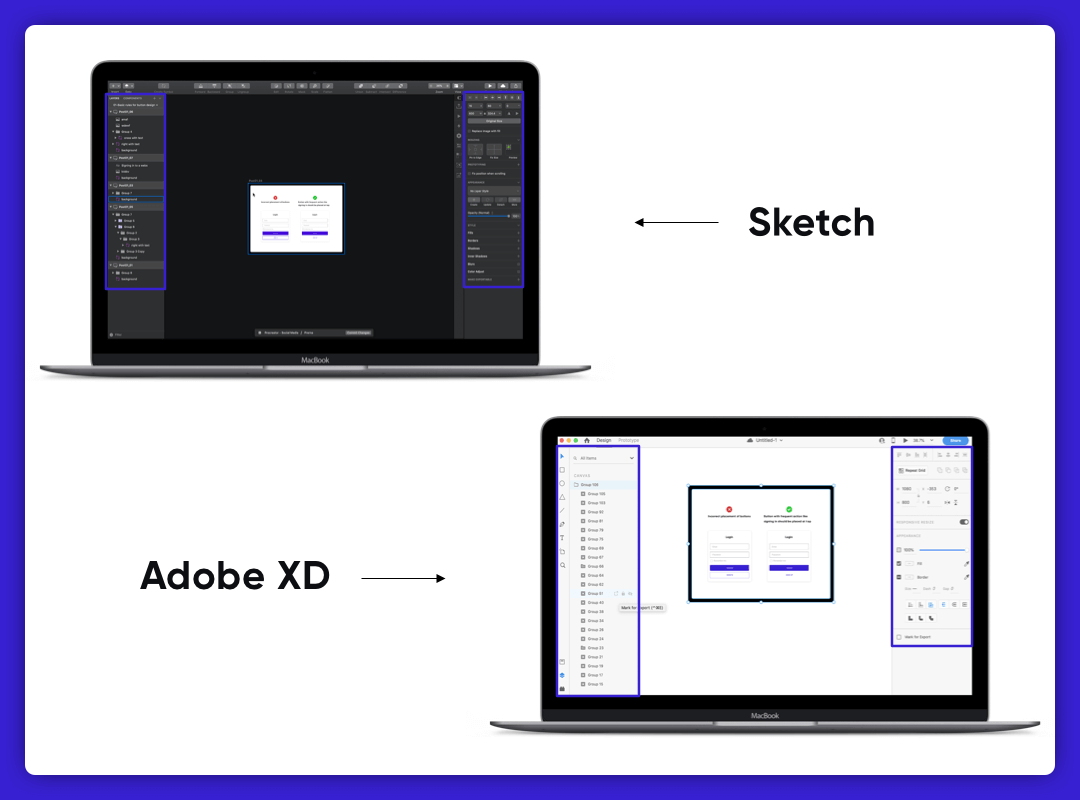 You'll find all the major features and tools of both the design systems in the same places, so moving from one software to another isn't going to be the major issue!
Which is better?
Considering the time this software has been present in the market, none of them is visibly better than the other. Although in some aspects, like a performance - Adobe XD is far better than Sketch, or in the aspect of plugin availability, Sketch has many more plugins than Adobe XD. Adobe XD is completely free to use, and Sketch does have a yearly subscription fee. After understanding all these factors, any of this software that you finally choose will be the best for you and you can't go wrong with either. And to answer the question that we asked at the beginning of this article, it finally comes down to personal opinion. And if I were to design products on any one of the given software it would be Adobe XD for me and the major deciding factors for this were the performance and free to use the model of Adobe XD. Let us know in the comments section below which of this software you choose and why. And if you want to learn and understand any of these better, check their documentation out in the links below.
Sketch Documentation
Adobe XD User Guide